RAJAGIRI CENTRE FOR SKILL DEVELOPMENT (RCSD)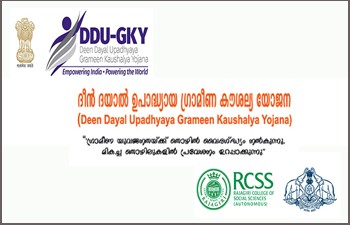 Established in May 2015, it is a center for job oriented Skill Development, the catchword of the day, and the stepping stone to self-reliance and empowerment for the coming generations. The center is a platform that reaches out to rural and urban segments of the society.
The segments comprise of the marginalized, uneducated, educated and unemployed factions of the society. The center envisages to evolve as a Centre par excellence in Skill Training and disseminating knowledge, specific to technical skills, life skills and values. It strives to facilitate employment in the organized sector to the above categories by equipping them with a valid certification. The overall objective is the enrichment of human resources, and alleviation of poverty rendering quality skill training and holistic development for a fulfilling livelihood.
The department offering short term courses on Hospitality-Housekeeping, Sales Associates, Front Office Management, Accounts Executive, Ayurveda Spa Therapy, General Duty Assistant, Unarmed Security Supervisor etc.
---
Vision
To evolve as a centre par excellence in skill training and disseminating knowledge, specific to technical skills, life skills and values
---
Mission
To transform the rural and urban youth into an economically sustainable and globally relevant workforce.
---
UNIQUENESS OF THE SCHOOL
Awareness building within the community on skilling opportunities

Mobilizing rural and urban youth, who are marginalized

Selection based on aptitude

Imparting knowledge, skills and attitude that enhance employability and personal growth

Providing placements and ensuring career progression and retention
---
RANKING/ACHIEVEMENTS
Rajagiri College of Social Sciences received the "Best Performing Project Implementing Agency" award for DDU-GKY Project in the State of Kerala, consecutively for the third year (2016-17, 2017-18 and 2018-19). Mr. K K Shaju, State Head, Rajagiri DDU-GKY Project received this year's award from Mr. Harikishore IAS, Executive Director, State Kudumbashree Mission, Govt of Kerala, on 20th June 2019, on the occasion of DDU-GKY Phase 2 project launching held at Thiruvananthapuram.
Contact:
K K Shaju,
DDUGKY
ddugkykerala.rajagiri@gmail.com

---
For More Details: http://ddugky.rajagiri.edu/
---