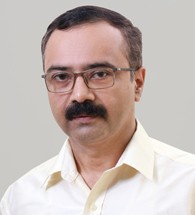 Designation : Asst. Professor
Qualification : M. Phil
Email-ID : georgejoseph@rajagiri.edu
He secured 1st Rank in Master's Degree in Computer Applications from Ravenshaw University, Cuttack, Odisha and he holds a Master of Philosophy in Computer Science from Bharathidasan University, Tiruchirappalli. He has qualified UGC-NET in Computer Science. He has completed a six months International Programme on Development of Management Perspectives from IIM, Kolkata and a Post Graduate Diploma in Computer and Management Information System from RCM, Bhubaneswar.
He started his career in IT industry as Analyst Programmer with Yuko Systems, he worked as a Project Trainee at IIITMK Kerala and worked as a Technical Analyst with Transversal e Networks, Technopunk, Thiruvananthapuram. He joined Rajagiri College of Social Sciences, Kochi as a faculty member in 2003.
He has more than 20 years of teaching experience at post graduate level. He has been a visiting International Scholar at Vives University College, Kortrijk, Belgium. He is proficient in computer programming languages like C, C++, C#, Java, R and Python. His area of interest includes, Artificial Intelligence, Data Mining, Data Structures, Database Management System, Management Information System, Internet & Web Technology.