MSW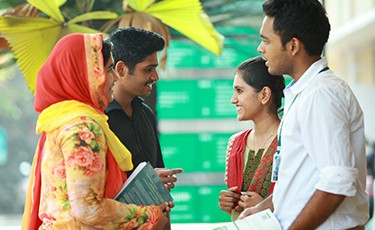 Master of Social Work is a Post graduate programme in social work initiated by Rajagiri School of Social Work in the year 1961, which was the pioneering Masters programme in Social Work in Kerala. MSW is a two year full time degree programme consisting of four semesters offered in two-aided batches. MSW programme through the education of social work values, principles and methods empowers students to adopt strategies and interventions to bring changes in the life of people. This programme fosters knowledge, skills and attitude of learners for delivering human services through widening the horizons of perspectives with a global standard. The curriculum of the programme offers a splendid blending of theoretical knowledge, field practicum, research, conferences and seminars.
MSW programme is envisaged to mould socially committed and professionally competent young social workers to contribute towards the social development of the country. Specializations are offered in Community Development, Family and Child Welfare and Medical and Psychiatric Social Work.
COURSE HIGHLIGHTS
Developing an ambience for self-learning (svadhyaya) which is characterised by freedom, openness, approachability, flexibility, collaboration & participation, and mutual trust & respect;

Providing necessary theoretical inputs on the philosophy, values, methods, fields and the approaches of human service profession and human resource management;

Providing avenues for experiential learning for growing in social awareness and sensitivity towards social issues;

Promoting insight into one's personal (own) self and the purpose of professional self in the helping profession;

Fostering the development of proficiency in helping and managerial (human management) skills, and effective intervention strategies.

Helping to sharpen the skills in conceptualization, analyst and interpretation.