MCA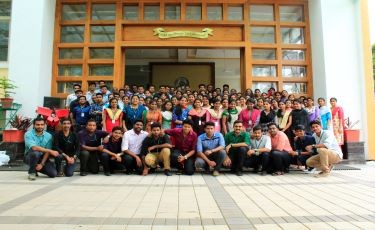 Welcome to the MCA programme of Rajagiri College of Social Sciences, Hill Campus, Kalamassery. The three-year Master's Degree Programme in Computer Applications(MCA)* was introduced by the college in 2001 to meet the growing demand for well qualified and trained computer programmers. The course is affiliated to Mahatma Gandhi University, Kottayam, Kerala, India, and approved by the All India Council for Technical Education, New Delhi. The school endeavours to bring out world-class professionals in the development and use of software for different applications.
*From 2020 Admission onwards, Master of Computer Applications(MCA) will be a 2-year course as per APH 2020-21 of AICTE, New Delhi.
The MCA programme offered by Rajagiri College is one of the most sought after courses by students aspiring to become top class computer professionals. The annual intake of students to the course is 60. The students are admitted to the course through careful screening and other admission criteria.
Programme Outcome (PO)
At the end of the Programme, a student will be able to:
PO1:Computational Knowledge:

Apply knowledge of computing fundamentals, computing specialisation, mathematics, and domain knowledge appropriate for the computing specialisation to the abstraction and conceptualisation of computing models from defined problems and requirements.

PO2: Problem Analysis: Identify, formulate, research literature, and solve complex computing problems reaching substantiated conclusions using fundamental principles of mathematics, computing sciences, and relevant domain disciplines.
PO3: Design /Development of Solutions:

Design and evaluate solutions for complex computing problems, and design and evaluate systems, components, or processes that meet specified needs with appropriate consideration for public health and safety, cultural, societal, and environmental considerations.

PO4: Conduct Investigations of Complex Computing Problems:

Use research-based knowledge and research methods including design of experiments, analysis and interpretation of data, and synthesis of the information to provide valid conclusions.

PO5:Modern Tool Usage:

Create, select, adapt and apply appropriate techniques, resources, and modern computing tools to complex computing activities, with an understanding of the limitations.

PO6:Professional Ethics:

Understand and commit to professional ethics and cyber regulations, responsibilities, and norms of professional computing practice.

PO7: Life-long Learning:

Recognise the need, and have the ability, to engage in independent learning for continual development as a computing professional.

PO8: Project management and finance:

Demonstrate knowledge and understanding of the computing and management principles and apply these to one's own work, as a member and leader in a team, to manage projects and in multidisciplinary environments.

PO9: Communication Efficacy: Communicate effectively with the computing community, and with society at large, about complex computing activities by being able to comprehend and write effective reports, design documentation, make effective presentations, and give and understand clear instructions.
PO10:Societal and Environmental Concern:

Understand and assess societal, environmental, health, safety, legal, and cultural issues within local and global contexts, and the consequential responsibilities relevant to professional computing practice.

PO11: Individual and Team Work:

Function effectively as an individual and as a member or leader in diverse teams and in multidisciplinary environments.

PO12: Innovation and Entrepreneurship

:

Identify a timely opportunity and using innovation to pursue that opportunity to create value and wealth for the betterment of the individual and society at large.
Program Specific Objectives
PSO1: Data Analytics: Acquire knowledge of Data preprocessing and Data quality, Modeling and design of data warehouses, Algorithms for data mining, skills to design, analyze and develop algorithms and implement using high-level programming languages and to define and critically analyze mining approaches for various domains.
PSO2: High-Level Programming: Acquire skills to design, analyze and develop algorithms and implement those using high-level programming languages, to maintain web server services required to host a website, Install, configure, design and develop mobile application development tools.
PSO3: Software Conceptualization and Implementation: Acquire knowledge to design a solution to a given problem using one or more design patterns and implement the design in a programming language by lifecycle paradigms, apply software testing and quality assurance techniques; to work collaboratively team environment to develop software from conceptualization to completion, including requirements elicitation, system modeling, system design, implementation, unit and system testing, integration, source code management configuration management, and release management
PSO4: Practices and tools in Information Security: Acquire a practical overview of the issues involved in the field of information security and assurance; acknowledge the ethical considerations in all dimensions of information security, and utilize the software tools to explore, rectify or prevent the unauthenticated actions in the domain.
Why Choose MCA?

Masters in Computer Applications is a 2 year-long post-graduate course that is one of the most sought-after courses in India. With a rise in the number of industries that are partially or fully dependent on computers, there is a dearth of good IT professionals with working knowledge of computer hardware and software.
Students who satisfy the Eligibility Criteria, and are passionate about computer applications can definitely opt to pursue their master's in Computer Applications. The career opportunities are highly rewarding and can give the much necessary boost in one's current role. Candidates with MCA from the best MCA college in Kerala, Rajagiri can find placements in several private and government sectors. The starting package for MCA graduates is also pretty impressive.
Reasons Why MCA Can reward you a Better Career?
An MCA candidate will never go out of demand owing to the ever-evolving IT industry. Each year, new and advanced technologies are being introduced in the field of IT and applicants with an MCA are going to be in high demand. Leading organizations are always looking for experienced candidates with the right qualifications and MCA really stands out from the crowd.
Information Technology is, without doubt, the fastest-growing segment of our generation, and making a rewarding career in the evolving IT industry becomes easier with the right launching platform of MCA taken from one of the best MCA colleges in Kerala. Completing MCA allows one to acquire the skills to become an IT expert provided they keep an open mind and are willing to build on their knowledge and experience.
MCA Course Preparation Tips

Preparing to attend MCA from one of the best MCA colleges in Kerala, RCSS requires proper preparation and adequate grades in the Bachelor's degree. To begin with, the basic eligibility criteria states that the applicant must have completed their graduation in BCA, Degree in Computer Science Engineering or equivalent Degree.
Alternatively, students who Passed B.Sc./ B.Com./ B.A. with Mathematics at 10+2 level or at Graduation Level (with additional bridge Courses as per the norms of the concerned University) can also apply for an MCA course in RCSS.
At least 50% marks must be obtained in the qualifying exam to become part of the selection process which may change as per ASC (Admission Supervisory Council) MCA Admission Regulations year to year. Remember, the seats are limited and may depend on the score obtained in the Kerala MCA Entrance Examination and the degree marks of the candidate.

MCA Job Opportunities

The diversity in job opportunities for MCA graduates is huge. Candidates can find a rewarding career in both software and hardware engineering. A few of the job opportunities that they can find are mentioned below:
• Cloud Architect
• Software Application Architect
• Software Developer
• Programmer
• Software Consultant
• Software Engineer
• System Analyst
• Network Engineer
• Hardware Engineer
• Technical Writer
• Troubleshooter
• Systems Developer
• Systems Engineer
• Web Designer and Developer
• Cyber Security Expert
Cloud server management is of prime importance as digital storage is the new gold. The depth of knowledge you get from your post-graduation will also depend on the level of competence and facilities you are provided with. Joining the best MCA college in Kerala- RCSS guarantees that your education is relevant and most importantly recognized wherever you go.