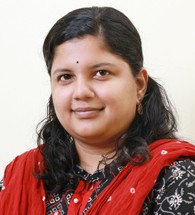 Designation : Asst. Professor and Clinical psychologist
Qualification : .
Email-ID : sunaina@rajagiri.edu
Mrs. Sunaina Ayiliyath is a Clinical Psychologist with around 3 years of experience in the field of teaching, research and consultation. Started journey in the field of clinical psychology at Christ University, Bangalore with completion of post-graduation (M-SC Clinical Psychology) and completion of MPhil in Clinical Psychology at Central Institute of Psychiatry, Ranchi. Served as a faculty at St. Agnes College, Mangalore and Jain College, Bangalore. Past clinical practice at these colleges and a few of the institutes like Govt. General Hospital, Kasaragod and Human Care Foundation, Calicut. Interested in interdisciplinary researches and teaching papers of psychopathology, clinical assessment, and health psychology. Attended and presented papers at various conferences at Bangalore.