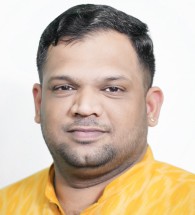 Designation : Assistant Professor
Qualification : M.A, B.Ed.
Email-ID : midhunmurali@rajagiri.edu
Mr. Midhun Murali is an Assistant Professor of Malayalam (Department of Languages),in Rajagiri College of Social Sciences (Autonomous), Kerala. He has a teaching experience of nine years in reputed institutions like U.C. College Aluva, Sahrdaya College Kodakara etc. Apart from this, he has been working as an Associate editor of H & C Publications Thrissur. He has published edited chapters and presented papers in various National and International seminars. Currently, he is pursuing his PhD at M.G University, Kottayam.