Student Accommodation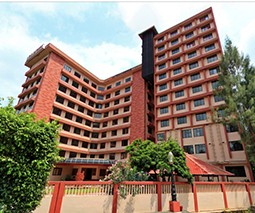 RCSS Hostel:
Rajagiri College of Social Sciences is a reputed institution, primarily focusing on the formation of students to become world citizens with outstanding personality and passion for an exemplary life. The hostel is a home away home to form students: well-groomed, socially sensitive and morally upright and professionally competent in the respective walks of life. Hostel life imparts a framework for ideal community life and social collaboration deep into the minds of the students.
The fundamental objectives of RCSS' student hostels are:
To provide a home for academic fellowship and interchange of ideas
To offer convenient facilities for healthy living and dining.
To help students to assimilate what is best in community life and culture of fraternity.
To provide the right atmosphere for fostering unity, faith in God and service to the nation.
Rajagiri hostels at Kalamassery and Kakkand are the prestigious institutions designed to complement the student formation in our Colleges at Kalamassery and Kakkanad. RCSS hostels for Men and Women aim at the overall development and welfare of mental, physical, intellectual, social, cultural and spiritual faculties of the students without any caste or creed.
The hostel is akin to home for the students in the campus, and they are provided with seamless services and facilities like food, essential commodities, hygienic and friendly environment for accommodation, affectionate care and guidance from Wardens and other hostel caretakers.
There are separate hostels for boys and girls
Boys Hostel Kalamassery A

Boys Hostel Kalamassery B

Girls Hostel Kalamassery

Boys Hostel Kakkanad

Boys Hostel Kakkanad
Hostel is a broader system with components like spacious accommodation facilities, reporting system, general rules and regulations exclusive for boys and girls, anti-ragging supporting system, grievance redressal system, Mess management system, laundry facility, medical emergency system, security system, prayer rooms, gymnasium, reading rooms, Wi-Fi, recreation facility, indoor and outdoor sports facility and counseling facilities.
Institution Structure