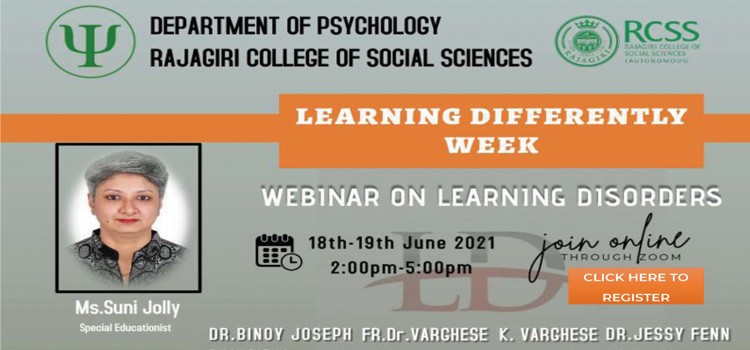 To commemorate Learning Disability Week, the Department of Psychology of RCSS, is organizing a two day webinar in the hope of spreading awareness about various learning disabilities and the interventions available for them.
Despite the recent increase in interest about Learning Disabilities, India still does not have a clear idea about its incidence and prevalence. And with studies reporting around 16% of students (in Kerala itself) having such a disability, there is an urgent need for awareness amongst the people.
This series of webinars are aimed to equip students, faculty and the general public alike with basic knowledge of the psychology behind learning disabilities and the ways available to accommodate and support students with such.
Our speaker is an expert on the subject with years of experience under her belt. There will be an interactive session on both days where queries will be answered by the speaker.
Resource Person:
Suni Jolly (Special Educationist)
Date: 18th and 19th June 2021
Time: 2 pm to 5 pm
Platform: Zoom
Click here for Registration link:
Participants may register through the google form provided. E-certificates will be provided free of cost to all participants after completion of both the webinars.