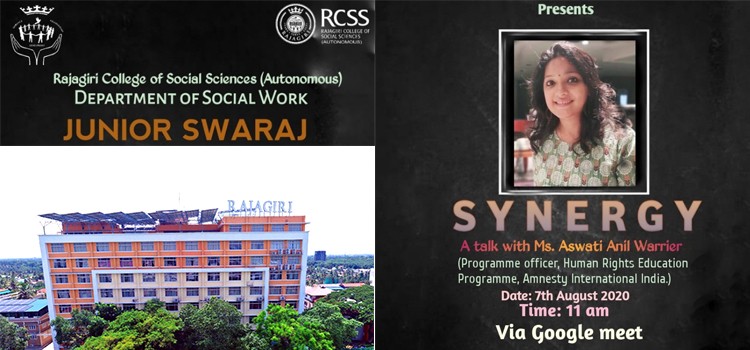 Date:07-08-2020
Platform: Google Meet
Time: 11:00 am to 12:30pm
Organizer: Junior SWARAJ
Target population: BSW students
Number of participants: 60
Faculty coordinator: Sr. Bincy
"Recognize that every interaction you have is an opportunity to make positive impact on others" (Shep Hyken").
The JUNIOR SWARAJ organised its 8th program of the year SYNERGY, an Alumni interaction with one of the Alumna of Rajagiri College of Social Sciences Ms Aswati Anil Warrier (Programme officer, Human Rights Education Programme, Amnesty International India) was held virtually on 7th of August 2020 on Google Meet platform at 11:00 am. The interaction was planned with an objective of reconnecting with the Alumna as well as showcasing her success stories to inspire the budding social workers. The program was compared by Ms Rekha Mariya Biju (Secretary of JUNIOR SWARAJ). Dr M.K Joseph CMI (Head, Department of Social Work) blessed the session with his presence. Ms Madhavi Manoj Warrier, Secretary of Junior Red Cross warmly welcomed the august gathering. The presidential address was delivered by Dr Nycil Romis Thomas (Programme Coordinator of BSW Programme.)Later the Guest speaker of the day Ms Aswati Anil Warrier (Programme Officer, Human Rights Education Programme, Amnesty International India) shared her journey from Rajagiri to Amnesty and about how club activities and field work catered in developing various skills that was required to the journey of her success. Session also included her grass root level experiences working with various rural and Government NGOs. All the other faculty members actively participated in the session by raising questions.
The event culminated with a Question and Answer forum, wherein students and faculty members got an opportunity to clarify their doubts/seek more insights on any of the covered themes by interacting with the alumna. The meet concluded with a vote of thanks by Ms Liya T Saji (executive member of JUNIOR SWARAJ) and the session successfully sowed the seeds of inquisitiveness, hard work, dedication, innovation and determination in the budding social workers. The session was inspiring, brilliant and wonderfully delivered. 55 participants participated in the event and it was really a great informative session.