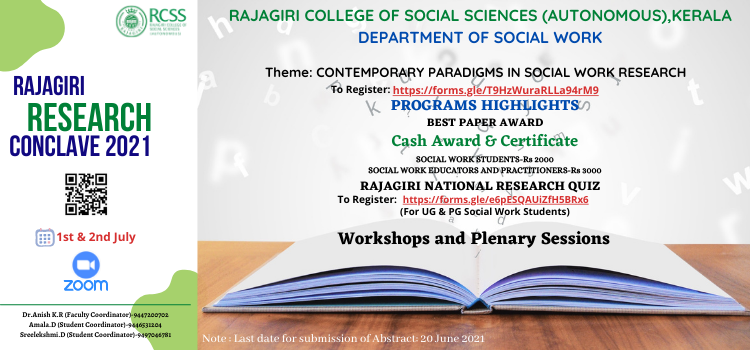 RAJAGIRI RESEARCH CONCLAVE 2021
Contemporary Paradigms in Social Work Research
1-2 July 2021
Rajagiri College of Social Sciences (Autonomous)
Rajagiri College of Social Sciences (Autonomous), established in the year 1955, situated in Kochi in Ernakulam District, is a leading higher education institution in Kerala. The college has been consistently graded with the highest grade in the three cycles of NAAC Accreditations. In addition, the UGC has declared the college as a College with Potential for Excellence and National Institutional Ranking Framework (NIRF), Ministry of Human Resource Development has ranked the college as 28th Best College among Arts and Science Colleges in the country.
The Department of Social Work, established in 1955, the oldest department in the college, is one of the country's pioneering departments of social work education. The Department has been recognized as 2nd Best Department of Social Work in the country by the India-Today Best Colleges Survey and Outlook magazine Best Colleges Survey. The department has an active extension wing that has a strong community linkage with programmes for various stakeholders.
Rajagiri Research Conclave
Rajagiri Research Conclave is an initiative of the Department of Social Work, Rajagiri College of Social Sciences (Autonomous), to showcase the research acumen of social work students and professionals from various parts of the globe. The conclave focuses explicitly on enhancing the research rigour among social workers and developing a research culture in social work institutions. The conclave includes inputs on recent trends in research and research methods, award sessions for social work students and social work practitioners, research colloquiums, and dissemination of research findings as publications.
Click here to download Brochure