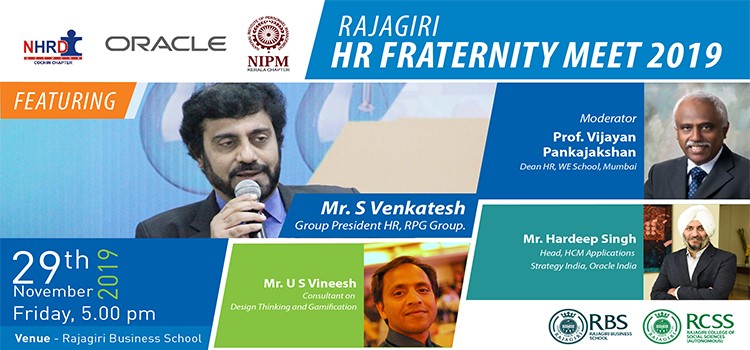 It is our distinct pleasure to invite you and your colleagues to attend the Rajagiri HR Fraternity Meet 2019 which is jointly organized by Rajagiri Business School, Rajagiri College of Social Sciences, National Institute of Personnel Management Kerala Chapter, National HRD Network, Cochin Chapter and Oracle.
Date: 29th November 2019, Friday, Starting from 5.00 PM
Venue: Rajagiri Business School, Rajagiri Valley, Kakkanad
The meet consists of multiple sessions where Mr. S Venkatesh, Group President - HR, RPG Group will be the keynote speaker and he will have a fireside chat with Prof. Vijayan Pankajakshan, Dean -HR, WE School, Mumbai on the topic "Contribution of HR Profession to the Success of India Inc - Journeys completed and Opportunities Ahead". This will be followed by a session on "Techtonic Shifts in HR Tech" by Mr. Hardeep Singh, Head, HCM Strategy, Oracle India and a talk on "Weaving HR solutions by Design Thinking" by Mr. U S Vineesh, renowned consultant on Design Thinking and Gamification. The event will be concluded with cultural activities and dinner.
Requesting you to confirm your participation latest by 28th November, Thursday, 5.00 pm by clicking the link given below. There is no registration fee charged for this program.