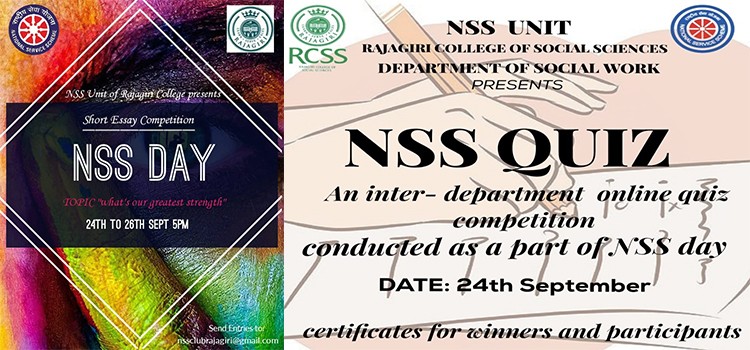 NSS DAY CELEBRATIONS
Date: 24th September, 2020
Platforms: Instagram, G-Mail, Google Form
No. of Participants: 81
Faculty Coordinator: Mr. Vineeth U. V.
Organizer: Social Work Students
As part of celebrating NSS day celebrations the volunteers organized 4 major programs which are NSS Quiz, Throwback, NSS day short essay competition and the launch of the official Instagram page of NSS unit of Rajagiri college of social sciences. The NSS quiz was of 10 questions mainly giving better knowledge of NSS and its functions. We got 70 plus entries. Participants who scored above 60% were awarded with e-certificates. Throwback is a program were participants mainly the volunteers to take their time to share their experience and what they gained through the 10-day camp. The participants could send in their entries to the NSS mail with their favourite picture of the camp and a small caption describing it. we got 7 entries. The next program was a short essay competition where participants had to write about the topic 'what's your greatest strength' for which there were 4 entries. Finally, we had launched the official Instagram page of NSS unit Rajagiri college of social sciences at 7 am on 24th September 2020.