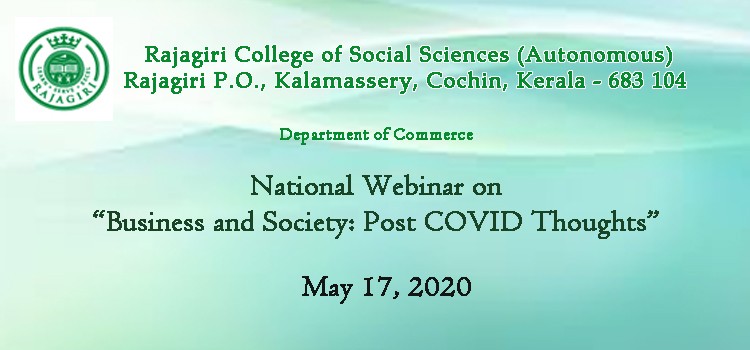 ABOUT THE WEBINAR:
Theme: Business and Society: Post COVID Thoughts
Background:
The planet is undergoing Covid_19's strain. The pandemic invariably affects all forms and walks of life. Education sector being one of the worst affected streams requires survival by adapting and perpetuating a better version of it. A majority of educational institutions across India continues its teaching and learning processes through ICT platforms, along with a number of value additions. The present scenario also witnesses a quick transmission from the traditional methods of organizing Seminars, Workshops, and Faculty Development Programmes to ICT enabled online versions viz. webinars, online workshops, and online FDP's using several online platforms like Zoom, Google Meet, etc…
Keeping in mind the needs of educators, the Department of Commerce, Rajagiri College of Social Sciences (Autonomous) is organizing a webinar on "Business and Society: Post COVID Thoughts." on May 17, 2020. The timing of the webinar shall be from 3.00 pm to 4.30 pm.
Online platform: Google Meet(https://meet.google.com)
The objective of the Webinar:
To discuss new faces of business and society in Post-Covid age.
ABOUT THE RESOURCE PERSON
Dr. Gabriel Simon Thattil (Professor, Department of Commerce, University of Kerala)
View Brochure:- Click Here
Click Here to Register
For More Info:
Mr. Vishnu N.S.
Assistant Professor
Department of Commerce
Rajagiri College of Social Sciences (Autonomous)
Email: vishnuns@rajagiri.edu
Mob: 8281380522