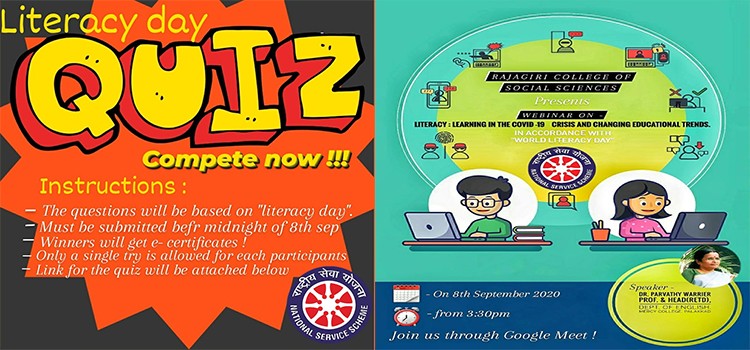 LITERACY DAY CELEBRATION – WEBINAR & QUIZ
Date: 8th September, 2020
Platform: Webinar – Google Meet
Quiz – Google Forms
No. of Participants: Webinar – 86
Quiz – 42
Faculty Coordinator: Mr. Vineeth U. V.
Organizer: Social Work and Psychology Students
World Literacy Day is an international observance, celebrated each year on 8 September. Its aim is to highlight the importance of literacy to individuals, communities and societies. Celebrations take place in several countries. In light of World Literacy day, the NSS unit of Rajagiri College of Social Sciences held an online webinar on the topic 'Literacy: learning in the COVID-19 crisis and changing educational trends' lead by the spokesperson Dr. Parvathy Warrier. She is an eminent social activist & is the vice President of OISCA international south India chapter. She has done her doctorate in Anglo- Welsh poetry and her M.Phil. in modern poetry. She taught at graduate and post graduate level for a period of 32 years and retired as professor and head, department of English, Mercy College, Palakkad. She enlightened us on the topic and after her talk, NSS volunteers of psychology department put together a yoga demonstration of simple yoga poses students can do to relieve tension and strain from online classes, after the webinar e – certificates were awarded to the participants. A quiz was also held on the topic of "literacy day" which got ample participation and attention from the college.