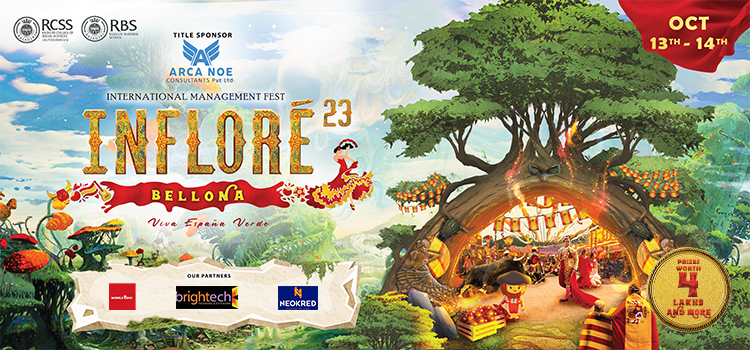 Prepare to be enthralled as the 19th edition of this extraordinary Management fest and cultural extravaganza is about to unfold on October 13th and 14th this year. Infloré 23 is all set to transport you to a world of mystique with its captivating theme: "Bellona: Viva España Verde," a tribute to the Goddess of War.
In the realm of Roman mythology, Bellona transcends her role as a mere goddess of war; she embodies fervor and passion, symbolizing the indomitable spirit of resilience and victory. Her essence ignites the fire of courage and determination within us, compelling us to face challenges head-on.
The phrase 'Viva Espańa Verde' resonates with 'Long Live Green Spain.' This facet of the theme champions the cause of environmental sustainability and green living. It's a rallying cry, urging us to honor and protect our precious environment, embrace sustainable practices in our daily lives, and work tirelessly toward a greener future.
'Bellona: Viva Espańa Verde' together represents the passionate pursuit of victory in our fight for a sustainable future. It's a poignant reminder that, just as Bellona led her people to triumph in the heat of battle, we too can emerge victorious in our battle against environmental degradation. This theme calls upon us to awaken our inner Bellona, urging us to be fervent, vigorous, and passionately committed to protecting and preserving our environment.
The theme was unveiled by the film crew of the upcoming Malayalam movie "Theepori Benny" The event was organized at the RBS auditorium on the campus. What lends this year's 'Inflore' even greater significance is the substantial support it has received. Arca Noe Education Consultants have assumed the distinguished role of title sponsor, exemplifying their commitment to nurturing the future generation of leaders. With excitement and support from many celebrities and corporates the anticipation for the event across the country is crossing thresholds making it one of the biggest management fests in South India.
The "Infloré 23 Dropdown" unveils the grandeur of the annual Management fest at the Rajagiri Centre of Business Studies, illuminated by the presence of the cast of the latest malayalam blockbuster 'Kasargold' as the chief guests. This moment sets the stage for the eagerly anticipated 'Infloré 23 Dropdown' spectacle, where, as the countdown reaches its climax, the drop-down flag descends gracefully from the towering RSOM building.
The theme "Bellona: Viva España Verde" encapsulates the very essence of passion, resilience, and environmental sustainability. The students' initiative to organize a beach cleaning program at Fort Kochi Beach as part of the Management fest is the embodiment of this theme. It's a clarion call to unite in the battle to protect and preserve our environment, echoing Bellona's unwavering spirit. This endeavor represents our resolute commitment to a greener future, urging all of us to become fervent champions, vigorous warriors, and passionate defenders of our environment. Get ready for a journey of discovery and transformation at Infloré 23!