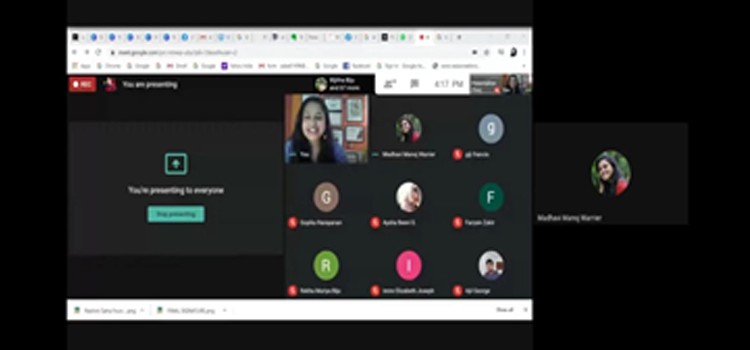 International Day of a Girl Child is observed every year on 11th October 2020. As part of observing this day, JUNIOR SWARAJ and YOUTH RED CROSS organized a live, interactive session, the key speaker being Ms. Rashmi Saha, founder of Mukty Organization and TedX speaker.
The session started at 4pm with the prayer song by Ms. Gopika Narayan (BSW 2nd year), welcome speech was delivered by Ms. Farzain Zakir (BSW 2nd year) and the inaugural address by Dr. Nycil Romis Thomas, BSW Programme coordinator. Dr. M.K Joseph CMI (Head Department of Social Work) blessed the occasion with his presence. Later the session was taken over by the speaker, where she started by showing us a video related to the girl child, a beautiful poem composed by herself, called "DARR", a fear that girls never say, a poem that speaks of the day to day, which covered almost all the aspects of atrocities and problems faced by the women. She made it an interactive session by asking questions to the participants in between and also sharing her own experiences she faced as a woman.
Around 70 participants participated in the webinar. Overall, it was an informative and a motivating session for the youth. Also, she being a social worker, her views on society connecting with the safety of a woman was also well delivered. In the end, she welcomed all the questions of the participants with a smile on her face and answered to all ensuring that the participants understood it and loved her session overall. Later the webinar proceeded with a vote of thanks delivered by Ms. Aysha Beevi (BSW 2nd year). E-Certificates were provided to all the participants. The session was organized and coordinated by Madhavi M Warrier, Aysha Beevi, Irene Elizabeth Joseph and Farzain Zakir, social work trainees of (BSW 2nd year) Rajagiri College of Social Sciences, Kalamassery.