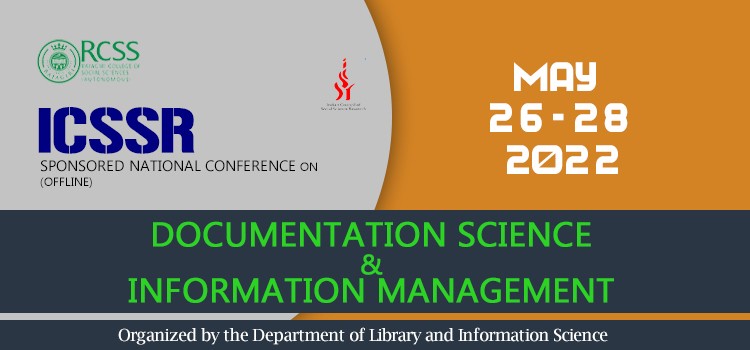 ICSSR Sponsored National Conference on Documentation Science & Information Management, May 26-28, 2022
The Department of Library and Information Science, Rajagiri College of Social Sciences (Autonomous) is organizing a three-day National Conference on "Documentation Science and Information Management" sponsored by ICSSR on May 26-28, 2022. The major objective of this conference is to bring together academicians, practicing librarians, research scholars, students and IT professionals from a verity of disciplines including library and information science, knowledge management, documentation and information management.
Original and unpublished research papers are cordially invited for presentation at the conference in the following suggested topics, but not limited:
Librarianship
Knowledge Discovery & Management
Open Science
Impact of Social Media
Scholarly Communication
Archives & Publication
Information Resources Management
Innovations in Library Services
Intellectual Property Rights
Topics related to 'Azadi Ka Amrit Mahotsav': Digital India, National Educational Policy, GST
Article submission : dsim@rajagiri.edu
Registration link.
https://docs.google.com/forms/d/e/1FAIpQLSc3LElIsiS_io8yzs87EQFn0h5vIYclrlIVj6xO0ji7JDvLWQ/viewform
Contact for further information:
Dr. A.T.Francis (Prof. & Head) – 9496839409
Dr. K.Susan Mathew (Prof.) – 8330882723
Dr. Joshi George (ASP) – 8606365566
Ms. Neetha Devan (Asst. Prof.) – 9140881625
Ms. Neethu Mahonan (Asst. Prof.) – 7012470464
Dr. Joseph I Thomas (Asst. Prof.) – 9496177148
Mr. P.V. Vijesh (Libn.) – 8289853395
Mr. A.J.Francis (Libn.) – 9446740404