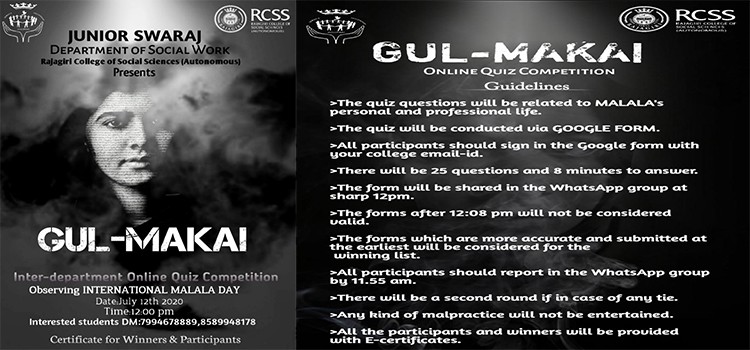 GUL-MAKAI INTER-DEPARTMENT ONLINE QUIZ COMPETITION
Date - 12th July 2020
Platform- Google Meet
No. of Participants- 59
Faculty coordinator- Sr. Bincy Maria
Organizer- Social Work Students
"Let us pick up our books and our pens, they are the most powerful weapons" (Malala Yousafzai)
12th July, every year is commemorated as Malala Day to honour women and children's rights around the world. July 12 is the birthday of Malala Yousafzai, a young Pakistani woman who was shot in the head on October 9, 2012, by Taliban gunmen after she publically advocated for the education of girls.
As part of commemorating International Malala Day, the JUNIOR SWARAJ conducted "GUL-MAKAI INTER-DEPARTMENT ONLINE QUIZ COMPETITION". 'GUL-MAKAI essentially means corn flower. It's a pseudonym Malala used when she wrote blogs for BBC. The film maker used the same name for his film, as an ode to her brave spirit as she continues to inspire a million girls around the world.
A small meeting was arranged virtually as a prelude to the Online Quiz Competition on 12th of July 2020 on Google Meet platform at 11:30 am. The program was anchored by Ms Rekha Mariya Biju (Secretary, Junior Swaraj). Adheena James Kanneth, President of Encon club welcomed the august gathering. The competition was officially inaugurated by Fr M.K Joseph CMI, Head Department of Social Work. Mr N.K Nikhil Assistant Professor of Commerce Department shared the guidelines and instructions regarding the online quiz competition and the meeting was well organized and terminated with a vote of thanks by Ms Aysha Beevi S (Treasurer of Junior Swaraj). The quiz competition started at sharp 12:00 pm and ended at 12:06 pm. The quiz competition was conducted via google form. The google form for the quiz competition was send by the coordinators through official WhatsApp group for the participants at sharp 12:00 pm.
77 students registered for the competition. About 59 students participated in the online quiz competition. The winners of GUL-MAKAI online quiz competition were officially announced in the Facebook and Instagram handle of Rajagiri College of Social Sciences. The first prize was backed by Sandra Sasikumar of 3rd year psychology. Anshida Thesni of BBA 3rd year and Nadeem Saffar of 3rd year psychology won the second prize. Third prize was achieved by Raghil Ramachandran of psychology 3rd year. The winners were provided with e-certificates. Along with that participation certificates were also provided to the participants. Certificate of Appreciation was given to Mr. N.K Nikhil, Assistant Professor of Commerce Department for presiding over the GUL-MAKAI online quiz competition.