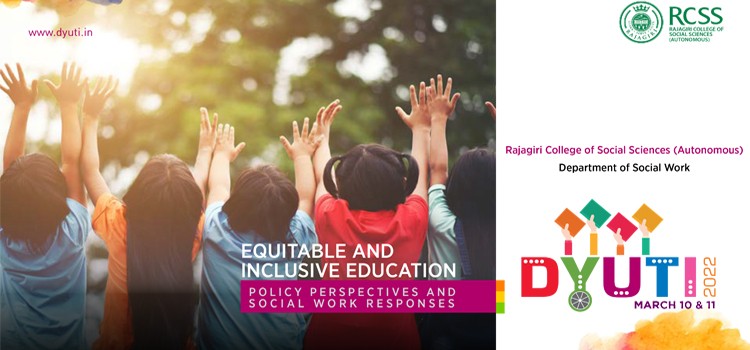 Greetings to you from the Department of Social Work, Rajagiri College of Social Sciences (Autonomous). Kochi, Kerala.
Rajagiri School of Social Work started in the year 1955 was one of the pioneering institutions in south India, establishing programmes and setting standards in the field of social work education. The college has been ranked with the highest ratings in all the cycles by NAAC, and is accredited with the highest score in the country in the fourth cycle. The college has been conferred with Autonomous status by University Grants Commission in 2014.
Rajagiri, with its vision of becoming a center of excellence in learning, has been regularly providing an annual forum for deliberations on vital issues of development from a 'rights perspective'. This series of deliberations which started in 1998 Is named DYUTI, meaning 'spark of life'. A total of 22 DYUTI national and international conferences have been organized so far. This 23rd edition of DYUTI is on 'Equitable and Inclusive Education: Policy Perspectives and Social Work Responses' based on the SDG Goal 4 in the background of the New Education Policy.
The National Conference will be held online on March 10-11, 2022. This is an opportunity for social work academicians, practitioners, organizations, researchers, and students to deliberate on the . The selected papers will be published with ISBN and DOI. The last date for submitting the abstract is 25 February 2022 and the final paper by 3rd March 2022.