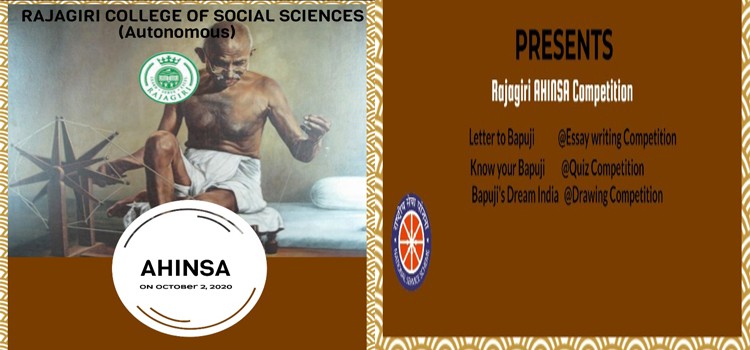 AHINSA
Date: 2nd October, 2020
Platform: E-Mail and Google Forms
No. of Participants: 75
Faculty Coordinator: Mr. Vineeth U. V.
Organizer: Social Work Students
As a part of the 151st Gandhi Jayanthi celebration the National Service Scheme of Rajagiri College of Social Sciences conducted the event 'AHINSA'. As a part of the celebration, there conducted three events which are:
1. BAPUJI'S DREAM INDIA- A drawing/painting competition to exhibit your artistic interpretation about an India Gandhi Ji believed in.
2. KNOW YOUR BAPUJI- A quiz competition to test your knowledge about The Father of our Nation.
3. LETTER TO BAPUJI- An essay writing competition to pen down things you would like to say to Gandhi Ji.
e-certificates were given to all the participants.