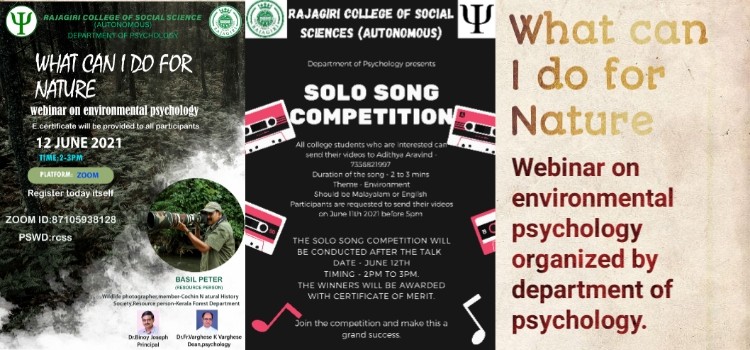 Department of Psychology, Rajagiri College of Social Sciences (Autonomous), is organizing a WEBINAR on Environmental Psychology and a Solo Song Competition. Environment plays an important role in healthy living and the existence of life on planet earth. Earth is a home for different living species and we all are dependent on the environment for food, air, water, and other needs. Therefore, it is important for every individual to save and protect our environment. This webinar will help the participants to identify the ways we can contribute to protect the environment. The WEBINAR is open to all. All the participants will get participation certificate. There is no Registration Fee for this WEBINAR.
Resource person: Mr. Basil Peter (Wild life Photographer, Member - Cochin Natural History Society, Resource person - Kerala Forest Department)
Solo Song Competition
1. Any College Student (both PG and UG) can participate
2. Winners (1st, 2nd and 3rd) will be awarded certificates of merit
3. Only English or Malayalam songs are allowed
4. Participants should sent their video recorded songs to the whatsaap number: 7356821997
5 Any songs which have some connection with environment can be used
6 The decision of the judges will be final
7. One person can submit only one song.
8. Participants are allowed to use mike, Karaoke but no editing is permitted
9. Send the videos for solo song competition before 5pm 11/06/2021