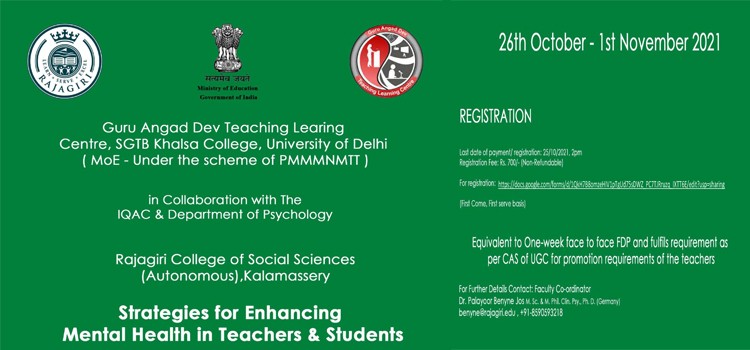 Dear & Respected Academicians, Research Scholars & Teachers,
As an IQAC initiative, Department of Psychology, Rajagiri College of Social Sciences, Kalamassery, in collaboration with Guru Angad Dev Teaching-Learning Centre of MHRD (PMMMNMTT) SGTB Khalsa College, Delhi University; is co-ordinating a One-Week National Online Faculty Development Program from 26/10/2021 to 01/11/2021. The Key Topic of focus for the Program is "Strategies for Enhancing the Mental Health of Teachers & Students".
About the FDP:
The FDP shall include online and flexible mode and will be equivalent to face to face one week FDP.
It fulfils requirement, as per CAS of UGC for promotion requirements of the teachers.
Learning Outcomes:
This FDP aims at letting the participants to-
1. Understand the status of Mental Health & Illness in College Students & Teachers: Global v/s Indian Context
2. Understand the importance of Strength-focused mentoring in Schools and Colleges
3. Learn a mindful pathway to well-being
4. Understand DSH & Suicide among College Students- Identification & Prevention
5. Understand about Learning Disability in the Context of Higher Education
6. Understand Psychiatric Issues in College Students and Academicians
7. Create Awareness on the Legal Aspects Associated with Issues Targeting the Students
8. Know coping strategies to deal with Burn-out in Teachers: Work v/s Family Context
Eligibility:
Administrators or teachers from various Higher Education/School Education.
No student shall be provided with this certificate. However, Research scholars / B.Ed students who are aspiring to be teachers may be allowed, who will be given certificate of participation in Workshop with same title and not as FDP.
Terms & Conditions:
Blended Mode: The sessions would be held online every day from 2.00 P.M to 5.00 P.M. The participants are expected to attend the live sessions. However, the recordings of live sessions would be made available in the Learning Management System (LMS) to those who are not able to join the live sessions. The feedback and assignments shall be completed on the LMS on a day to day basis.
Certification:
Certificates with Grade shall be issued to all those who successfully complete the daily feedback, assessment and final Quiz in the LMS as per norms (50% or above).
The certificate of FDP is equivalent to One-week face to face FDP and fulfils requirement as per CAS of UGC for promotion requirements of the teachers.
Grading will be done based on: Attendance, Online Quiz (based on MCQs), Assignments & Project
REGISTRATION
Last date of payment/ registration: 25/10/2021, 2pm
Registration Fee: Rs. 700/- (Non-Refundable)
For registration:
Click here to Download Brochure
(First Come, First serve basis)
Account Details:
Name of Account: Rajagiri College of Social Sciences
Name of Bank: State Bank of India
Account No.: 10447876600
Name of branch: Kalamassery South
IFSC: SBIN0010570
Cordially Inviting you All !!!