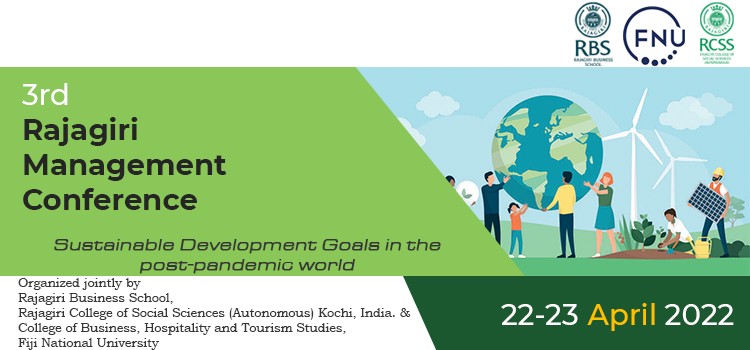 We are pleased to inform you that the registrations are now open for the Pre-Conference Research Workshop preceding conference dated 20-21st April 2022. We have gathered experts from diverse backgrounds with exceptional passion and extensive research capabilities as the resource persons to deliver a value-enriching learning experience. The workshop is targeted at research scholars and faculties who intend to learn novel tools to convert their research ideas into publications. The first day of the workshop is focused on the tools and techniques used for research in finance and economics, whereas the second day is focused on marketing, operations, HR, and OB. The participants can choose to attend either one or both of the days to receive the certificates.
Pre-Conference Workshop for 3rd Rajagiri Management Conference

Resource Person

Topic(s)

Concepts covered

Pre-Conference Research Workshop Day 01

Dr. Ronny Thomas,

Rajagiri Business School

Panel Data

Structure of Panel Data

Types of variations in Panel Data

Fixed effect and Random effect Models

Hausman Test

Dr. Aviral Kumar Tiwari,

IIM Bodh Gaya

Time Series

Linear Unit Root Tests

Non-linear Unit Root Tests

Linear Cointegration Tests

Non-linear Cointegration Tests

Pre-Conference Research Workshop Day 02

Dr. Aby Abraham,

Rajagiri College of

Social Sciences

Fundamentals of

Qualitative Research

Basics of qualitative research

Possibilities and limitations of various qualitative approaches

Prominent data collection methods, analysis tactics

Application of software packages

Dr. Sitanshu Sekhar Das,

IIM Shillong

Structural

Equation

Modeling

Structural equation modeling

Multi-group analysis

Mediation and Moderation analysis

All these analyses using open-source software
Brief profile of the resource persons
Dr. Ronny Thomas is an Assistant Professor at Rajagiri Business School. He has a Ph.D. in economics and M.Phil in Planning and development from IIT Bombay, Mumbai. He completed his masters in economics from the University of Hyderabad. Prior to joining Rajagiri Centre for Business Studies, he has one and half years of teaching experience at the School of Management Studies, NIT Calicut, Kozhikode. His research interests include international trade and FDI inter-linkage with econometric application and productivity analysis. He has presented his research papers in conferences held at the University of Nottingham, Delhi School of Economics, IIM Bangalore, and IIT Bombay and also published his research work. His teaching interests are managerial economics, microeconomics, applied industrial organization, and applied econometrics.
Dr. Aviral Kumar Tiwari is an Associate Professor at IIM Bodhgaya. Before joining IIM, he served at Rajagiri Business Scholl, Montpellier Business School, France, and at IBS Hyderabad, India. After graduating with a degree in Economics from Lucknow University, India, he received his M.Phil (in Labour Economics) and Ph.D. (in Energy and Environment) from ICFAI University Tripura. His research tends to cross the boundaries of narrowly defined fields as he constantly looks for promising ideas from several perspectives. The majority of his work contributes to the areas of energy economics, environmental economics, international trade, international economics, commodity markets, resources market, tourism, FDI, institutional quality, governance, and many more. He applies a variety of time-series and panel data approaches, both linear and nonlinear, to validate economic theoretical approaches. He has published in various journals of international repute including top-ranked journals in the prestigious Financial Times 50 list. His previous research has featured in journals such as Journal of Business Ethics, Tourism Management, Annals of Tourism Research, Economics Letters, Energy Economics, International Review of Financial Analysis, Economic Modelling, etc. He has been conferred the Best Researcher Award, in 2015 by GRABS Educational Charitable Trust, Chennai, and a prestigious Prof. M J Manohar Rao Award in 2014 from The Indian Econometric Society for his outstanding research contributions. He is also actively engaged as Editors (and Guest Editors) at different positions at several international journals (indexed in Scopus and ranked by ABDC) published by Wiley, Elsevier, Emerald, Sage, Springer.
Dr. Aby Abraham entered academics with 23 years of professional experience, starting as an engineer on the shop floor to Area Manager to Regional Contracts Manager to Heading Country Operations, with various International firms; like Lloyd's Register, ABS Group, Bureau Veritas, Velosi etc. This enabled him to have a broad view of real-life business scenarios that is useful in understanding ground realities. He taught as an adjunct faculty at the Business Administration Department of Dubai University College, ICFAI, Dubai campus, AIT, Dubai, and as a TA at XLRI.
Dr. Aby Abraham left the industry to pursue doctoral research at XLRI and submitted his thesis. He looks for 'meanings of possessions', leading to the process of meaning-making. Thus, his area of interest covers semiotics to social anthropology in the consumer behavior side of marketing. The cultural changes due to social class change, the impact of technology, and media, do change consumer's taste, and the resultant possessions and meanings derived; thus making it imperative to understand the process and direction. Country of Origin effects and entry strategies to culturally diverse markets are also of interest.
A pioneer in research and experimental study, Dr. Sitanshu Sekhar Das works with IIM Shillong. Before joining IIM, he served as an Assistant Professor at Rajagiri Business School. He served at IIT Kharagpur as a Research Associate from where he was awarded his Doctoral degree in Management (OB & HR). He always extended his interest in research in topics related to Leadership, Personality, Subjective well-being, Anxiety, Depression and always delivered world-class articles. His urge for finding the least discussed topic and presenting it with a 360-degree view is one of the remarkable qualities that every researcher should look for.
He has conducted and facilitated workshops for students, faculty, and corporate trainees on diverse topics including research methodology, structural equation modeling (SEM), and interpersonal relationship. He has also presented papers at national and international conferences. He was a part of the team that was responsible for the human resource planning of South Eastern Coalfield Limited (SECL a subsidiary of Coal India Ltd.) for the year 2019-2024
Please register for the conference/workshop/both at https://forms.gle/YsTDC8zfwr6vsavA8.