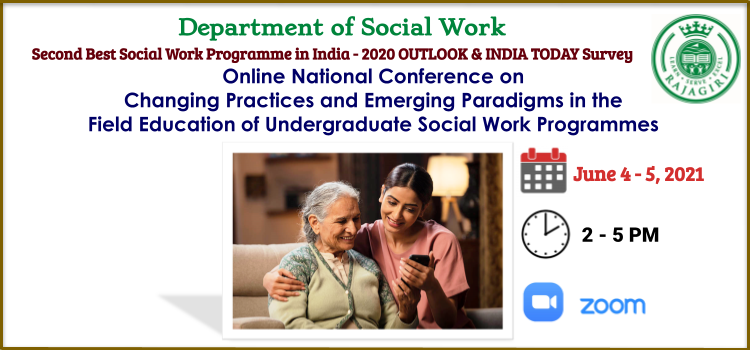 Online National Conference on Changing Practices and Emerging Paradigms in the
Field Education of Undergraduate Social Work Programmes
Date & Time - June 4-5, 2021 (2-5 PM)
About the Conference
Social work education is witnessing a rapid transformation as it countenances uncertainty and volatility unlike in the past. Field education, an integral part of social work education, encounters unprecedented challenges since face-to-face contact itself is at stake, including helping professionals. Several social work schools and agencies have experimented with education, training, field intervention models, and adopted online platforms for reaching to people and ensuring sustainability in practices. This conference aims to bring together social work students, educators, and field practitioners at the undergraduate level to deliberate their experiences, models of intervention, and emerging practices to strengthen the field education assuring the quality of learning and supervision underpinned by effective and evidence-based practices amidst challenging situations.
Objectives of the Conference
To discuss the emerging opportunities and challenges in the field education scenario.

To bring together the model/emerging interventions/practices in field education.

To voice the student experiences and learning in field education amidst challenges.
Sub Themes for Presentations
Field education models/practices

Field Learning and Reflections

Online Field Practicum

Research and Supervision in Field education

Partnerships in Field education and Training
Important Dates
20th May 2021 – Last date to receive the abstracts
31st May 2021 – Last date to receive Full papers/Videos/Posters/Experience sharing of accepted abstracts.
---
For registration and abstract submission: Click here