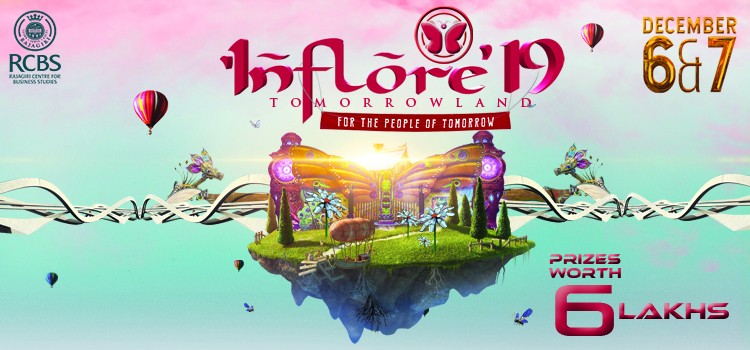 INFLORÉ meaning "In Bloom" is a completely student-driven initiative in the middle of an erudite life led by the Rajagirians. Since its kick-off in 2005, it transpired as one of the most sought-after management fests in South India providing a platform for students from all over India to challenge one another through a plethora of skill-demanding events. In every new edition of Infloré, the events are handcrafted with more vibrancy, enthusiasm and a unique vision. This year being conducted on December 6th and 7th the fest consists of 18 management and non-management events that aim to kindle and promote various skills in the participants. The events include the Best Manager, Best Management Team, She Entrepreneurship, Corporate Walk, the Voice of Infloré, etc. It is a cultural extravaganza that brings together talent and aspirations with prize money worth 5 lakhs. Infloré is conducted every year based on a theme where the students win or die in the Game of Thrones, struggle in the Age of Survival, fall in love with Kochi, get nostalgic in That 90's Magic, feel the wilderness through The Roar or bask under the 1000 Spotlights and this year Inflore 19 is based on the theme "Tomorrow Land" opening up a land of opportunities for the managers and talents of tomorrow. The Tomorrowland attractions have been designed to give the participants an opportunity to be a part of events with quality and molding them to become efficient managers. With colorful elements incorporated into every aspect of the fest on the theme. It attracts countless participants from various colleges. The fest witnesses 2000 participants in the management and non-management fests and 6000+ footfalls.
The Faculty Coordinators are Prof. Saji George and Dr. Susan Mathew and the Student Coordinators are Danish Sunny (Ph: 8943541924), Abin Babu (Ph: 7845422520) and Reshma Racheal (Ph: 8139009955). Infloré has been a part of Social Initiatives like Rebuild Kerala, Help Chedamangalam weavers and Manjali Halwa makers.
Set in the beautiful scenic campus of Rajagiri at Kakkanad, Infloré depicts the true management spirit of Rajagiri.
---
Website: www.rajagiriinflore.com
Instagram: https://www.instagram.com/inflore_19/
Facebook: https://www.facebook.com/rcbsinflore/
---