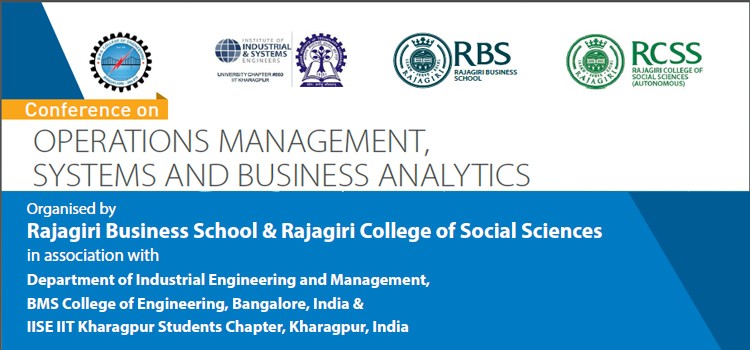 About the Conference:
The conference committee invites papers for the Annual Conference on Operations Management, Systems and Business Analytics. The conference provides a platform for academicians and practitioners to exchange knowledge and gain insights on the current technologies, techniques and solutions in Operations Management, Systems and Business Analytics.
Papers are invited from academicians and practitioners on any topic mentioned in the list of conference topics and related areas. The conference will be held online
and selected articles will be called for presentation on March 26 2021.
Keynote Speaker:
Abraham Thomas is the co-founder and Chief Data Officer of Quandl, a technology company that empowers institutional investors to make better
decisions through data. Abraham helped lead Quandl from its inception to its successful acquisition by Nasdaq (NDAQ) in 2018. He currently oversees
all data-related operations for Quandl: data acquisition, data engineering, data science and research, and data delivery.
Abraham was previously a senior portfolio manager and head of US investments at Simplex Asset Management, a multi-billion-dollar
a quantitative hedge fund with offices in Tokyo, Hong Kong and Princeton. He has a degree in Engineering Physics from IIT Bombay.
Abraham lives in Toronto with his family. He writes at @athomasq and at www.abrahamthomas.info.

Submission Invited :
We invite submissions from a broad range of topics in the area of Operations Management, Systems and Business Analytics that include but not limited to the following themes
Digital Transformation
Strategic Operations Management
Operations Research
Sustainable supply chain
Digital supply chain
Agri-business supply chain
Project ,Programme and Portfolio
Management
Artificial Intelligence
Cyber Risk Management
Humanitarian Operations Management
Online and Hybrid Learning Systems
Inventory Management
Machine learning
Operational Risk Management
Deep technologies
Blockchain technologies
Internet of Things
Information systems: Governance and Ethics
E-Commerce
Travel and tourism management
Health Care Operations
Robots, Cobots & Drones
Business Dynamics
We invite extended abstracts for conference presentations.
Important Dates:
Start of abstract submission: January 25, 2021
Last date for abstract submission: February 28, 2021
---Details regarding article submission will be updated soon.----